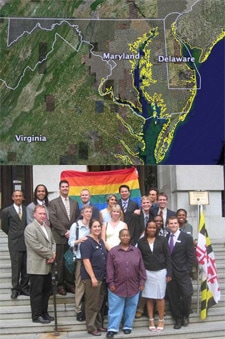 Maryland's highest court heard arguments today in the appeal of a January ruling on marriage in that state by Baltimore Circuit Judge M. Brooke Murdock. In her decision, Murdock struck down a 1973 state law which defined marriage as between a man and a woman, saying the law was discriminatory and "[could not] withstand constitutional challenge." Added Murdock: "When tradition is the guise under which prejudice or animosity hides, it is not a legitimate state interest."
Opponents of same-sex marriage immediately appealed, and the case was argued today as dozens of gay marriage supporters rallied outside.
Said Dan Furmansky, executive director of Equality Maryland: "The times have changed. We're not invisible anymore. What we can't do is be legally married and legally related to our partners. … We ask our fellow Marylanders today to walk a mile in our shoes."
But there was an entirely different issue for Doug Stiegler, executive director of the Maryland Family Protection Lobby: "When you talk about discrimination, the children in this case are being discriminated against. They're being denied a father and a mother. A family is a man and a woman and children."
Kenneth Choe, an ACLU attorney arguing on behalf of the plaintiffs, said: "The exclusion of same-sex couples from marriage violates the most fundamental guarantees of equality and liberty for all…It is not enough that there is a reason for including the included class. There must also be a reason for excluding the excluded class. The state could grant right-handed people but not left-handed people the right to marry simply by observing that marriage benefits right-handed people and their children."
The counsel to the General Assembly, Robert Zamoch, felt that Choe's hypothetical statute did not hold up, saying it would be "wholly arbitrary." Added Zamoch: "There is no fundamental constitutional right to same-sex marriage."
A decision from the court could be months away.
Maryland's highest court hears same-sex marriage arguments [international herald tribune]
Maryland Court Hears Same-Sex Marriage Arguments [washington post]