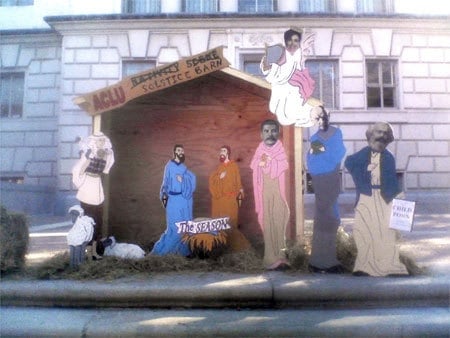 In an attempt to expose the "extremity" of the ACLU, the University of Texas Chapter of The Young Conservatives of Texas has installed an unusual nativity scene on that university's Austin campus to be on display at least through today. A handy explanation is provided on the YCT website:
"We've got Gary and Joseph instead of Mary and Joseph in order to symbolize ACLU support for homosexual marriage, and of course there isn't a Jesus in the manger," said Chairman Tony McDonald. "The three Wise Men are Lenin, Marx, and Stalin because the founders of the ACLU were strident supporters of Soviet style Communism. The whole scene is a tongue-in-cheek way of showing the many ways that the ACLU and the far left are out of touch with the values of mainstream America."
So same-sex parents can't have a child, eh? A terrorist shepherd and an angel with the face of Nancy Pelosi also feature prominently.
Said Executive Director Joseph Wyly: "The ACLU and other left-wing extremist groups are working diligently to destroy American's rights to the free expression of religion. We've already seen in Chicago an attempt to censor the nativity by a city government this week. It's just more evidence that there is a War on Christmas being waged by the far-left in this country."
Now that's the wingnut Christmas spirit. However I don't think "the values of mainstream America" they're trying to promote necessarily agree with those of the Saviour they've chosen to exclude.