Nigeria may pass legislation banning any form of association between gay people, including dining together at a restaurant: "Other activities prohibited under the proposed law include belonging to gay clubs or reading books, watching films or accessing Internet sites that 'promote' homosexuality." Opposition is scant because of fear of reprisal from the government and religious groups.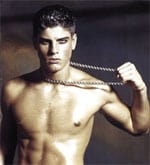 Just who is the hottest Brazilian of 2006?

New York Film Critics name United 93 best picture…

Palm Springs considers branding itself a "hate-free" city: "'Not in Our Town' is the name of a campaign the commission hopes will help the public learn to support people who are gay, lesbian, transgender or bisexual; of another race or ethnicity; of another religion or gender; or have a physical or mental disability."

Andy Roddick: card shark.

South Australian police create gay liaison positions within force: "SAPOL's acting director of Human Resources, John Bruhn, says the initiative is directed at better policing of gay hate crimes. 'Those sort of crimes are generally under reported and that's one of the key drivers in us setting up this network,' he said. 'So we can do better at helping and supporting the gay community in dealing with those things.'"

Same-sex shenanigans from the Toronto set of Hairspray: "a certain young male Hairspray star has left one local lad heartbroken. Sources say the two met midway through production and ended up spending many quiet nights together in the actor's Minto Yorkville suite. Promises to stay in touch were reportedly made but since filming ended the teen star hasn't called or e-mailed his Canuck lover."

Did NBC send its gay character Zach from Heroes back into the closet? "Two scenarios seem the mostly likely: for unknown reasons, NBC suddenly shied away from the idea of a gay character. Or Dekker's management wanted Zach to be straight."

Civil Partnerships prepare to celebrate first anniversary in Britain: "Civil partnerships have quickly and seamlessly become a feature of British national life. The statistics are compelling: more than 15,500 couples registered civil partnerships in the period from last December to September this year, suggesting that government predictions of 22,000 partnerships by 2010 are a huge underestimate. But perhaps more significant is that among the 15,500 pledging their union were a cabinet member – Ben Bradshaw, the Fisheries minister – and among those planning to tie the knot are Adam and Ian from The Archers, which, lest we forget, is 'an everyday story of country folk'."

Judge rejects request from "duped" frat boys to remove scene and halt sale of Borat DVD.

Matthew McConaughey's leisure suit chic.