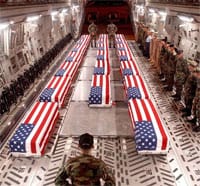 The number of American troops killed in Iraq (2,977) now exceeds the number of civilians killed (2,973) on 9/11.
The grim milestone came on Christmas day: "President Bush has said that the Iraq war is part of the United States' post-Sept. 11 approach to threats abroad, and that going on the offense against enemies before they could harm Americans meant removing the Taliban from power in Afghanistan, pursuing members of al-Qaida and seeking regime change in Iraq. Democratic leaders point out that there has not been any credible evidence linking Iraq to the Sept. 11 attacks and have said the war in Iraq detracted from efforts against al-Qaida and other terrorist groups."
Meanwhile, the U.S. continues to face down Iran, discoveries of torture evidence remain commonplace, and it looks likely that Saddam Hussein may hang within a month.
And our armed forces are so stretched to the limit that the Pentagon is considering outsourcing them.
What answers will Bush's "listening tour" have provided? Find out in January.