Lynne Cheney doesn't understand the "fuss" over Mary's out-of-wedlock lesbian love child: "Well, I think that it's just very lucky for me that I enjoy being a grandmother and I get to do it for the sixth time. Dick and I both very much looking forward to this new baby."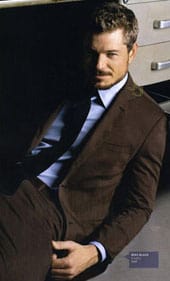 Eric Dane rocks the business suit.

Sex and the City feature film may be back on track. Kim Cattrall: "I'm just so glad we haven't been missed or forgotten!"

Gay couple wed in Brighton UK on first anniversary of civil partnerships. They are the 680th same-sex couple to legally bond in that city.

Proposed Renzo Piano-designed San Francisco high-rises would dwarf every other building in that city. Piano likens them to a cluster of bamboo shoots.

Senator Sam Brownback continues obsession with gays: "Sen. Sam Brownback, who wants to champion social conservatives in the presidential race, said Tuesday he wants a Senate panel to re-question a judicial nominee who attended a same-sex union ceremony. Brownback, a Kansas Republican, said he wants Michigan state judge Janet Neff to testify about her role in the 2002 Massachusetts ceremony, her legal views on same-sex unions and her ability to be impartial if called upon to rule on such cases."

Jacob and Joshua Miller talk to NewNowNext about their "disfellowship" from the Jehovah's Witnesses: "The whole thing ends up being very painful… I don't think there's anything wrong with following a faith and believing in God and worshipping, but as a result of this, I think some people close to us will have their faith shaken and compromised, and that's really unfortunate."