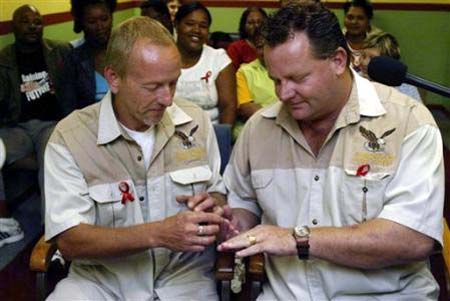 Vernon Gibbs and Tony Halls today tied the knot in South Africa's first gay wedding since same-sex unions took effect on Thursday. They adopted the joint surname Halls-Gibbs.
The couple wore ranger outfits to the ceremony because they "run a guest lodge and animal rehabilitation centre, which was attacked last year after it was marketed to gay tourists" according to the BBC.
Vernon Halls-Gibbs noted the fact that the ceremony took place on World AIDS Day: "This marriage… is for all HIV/AIDS sufferers and gay people who have experienced discrimination."
He added, "I just have one message I would like to give to everybody that we are just two men who love each other and who have loved each other for a long time."
Our best wishes to the happy couple.
Per a reader request, here's a link to their guest lodge website.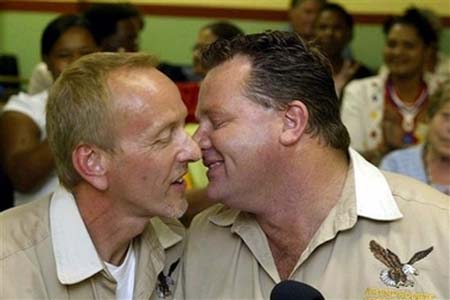 You may have missed…
South Africa Legalizes Gay Marriage [tr]