Survey: Vancouver now Canada's #1 gay travel destination.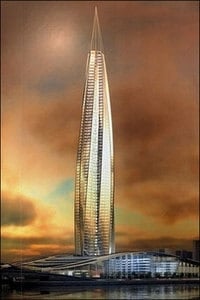 Controversial skyscraper planned for Russian city of Saint Petersburg: "The RMJM submission for the skyscraper that will anchor the complex features a spire that changes colour according to the light."

The gays have arrived: "Lavender invasion" hits Russia.

Jennifer Hudson, who will be performing at a pre-New Year's Eve party in New York on December 30th, tells HX she's ready for gay icon status: "I think the world of the gay community, and I feel like it's an honor. The gay community is the hardest community to please, so if they love me, I must be fierce, honey."

Great piece on gays in the Arab world from this weekend's NYT magazine: "Politicians, the police, government officials and much of the press are making homosexuality an 'issue': a way to display nationalist bona fides in the face of an encroaching Western sensibility; to reject a creeping globalization that brings with it what is perceived as the worst of the international market culture; to flash religious credentials and placate growing Islamist power. In recent years, there have been arrests, crackdowns and episodes of torture. In Egypt, the most populous country in the Arab world, as in Morocco, Saudi Arabia, the United Arab Emirates — even in famously open and cosmopolitan Lebanon — the policing of homosexuality has become part of what sometimes seems like a general moral panic."

Watching Dreamgirls with Gayle King: one blogger's tale.

Over 100 same-sex civil partnership ceremonies have taken place in Northern Ireland since they took effect in December 2005, according to provisional records from the Office of National Statistics in the UK. Over 15,000 have taken place across the UK, says the firm.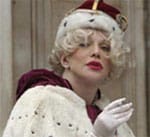 The Queen addresses her subjects from on high.

CBS' Cold Case goes Brokeback with gay cop love affair.

Scientists discover the "red apple" gene. Researcher: "Apple growers have always known that apple colour is dependant on light – apples grown in darkness or even heavy shade don't turn red when they ripen That made it very likely that the gene we were looking for requires light to be activated. By identifying master genes that were activated by light, Adam was able to pinpoint the gene that controls the formation of anthocyanins in apples, and we found that in green apples this gene is not expressed as much as in red apples."