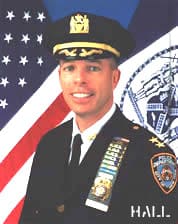 A Manhattan jury found transit officer James Hall, one of the NYPD's highest-ranking members, guilty of rejecting Sgt. Robert Sorrenti from a position with the youth services division simply because he is gay, and sabotaging the careers of two other 18-year NYPD veterans, Lori Albunio and Tom Connors, for supporting Sorrenti.
The three officers are now expected to receive $500,000 each.
According to court papers, Hall told Sorrenti that he had learned some "f**ked up s**t" about Sorrenti before rejecting him for the position and told the supervisors, "I won't be able to sleep at night knowing [he's] going to be around kids."
According to the New York Post, "The jury found Hall retaliated against Albunio, 42, stripping her of her command without cause, and he harassed her and the unit's operations lieutenant, Tom Connors, until they left the NYPD. Albunio and Connors, both 18-year veterans with several commendations, told The Post they believed Hall was blatantly biased and took revenge on them for sticking up for Sorrenti. 'To encounter a man like this – it was incredible,' said Connors, 42. 'And to see how the Police Department protected him and promoted him was devastating.' Albunio said, 'Sorrenti was an excellent candidate – professional, sincere, honest. He'd been with a precinct and highway patrol. He was a veteran of Desert Storm.'"
Sounds like some "f**ked up s**t" to me. The city plans an appeal.