I've covered Spencer Tunick and his human art installations quite a bit on this blog, and at one point produced quite a lengthy post on New York's downtown meatpacking district bistro Florent, so I was quite interested to see a new documentary, Positively Naked, that premieres at 7pm tonight on Cinemax. Not coincidentally, today is also World AIDS Day.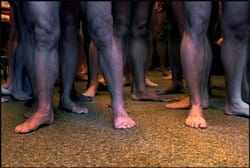 The documentary chronicles a shoot done by Spencer Tunick at the restaurant to celebrate Poz magazine's tenth anniversary issue. For the shoot, which Tunick did for free, 85 HIV positive people gathered at the restaurant and disrobed for the photograph. The documentary follows several of the participants on their individual journeys over the course of the day the shoot takes place, from their morning trepidation about participating, to the shock of actually finding themselves naked in a restaurant full of strangers, to an ultimate liberation from the self-consciousness so many of them express.
In a very short time (the movie lasts less than 45 minutes) directors Arlene Donnelly Nelson and David Nelson give us both a glimpse of Tunick's creative process but also a look at the collaboration that takes place between Tunick and his human subjects. It's a collaboration that is ultimately more eye-opening for the participants than for the artist. The documentary is both serious and light, intimate but not saccharine or emotionally manipulative.
Said Julia, a former drug addict and prostitute who participates in the shoot: "I think the message is that HIV and AIDS affect all people, of all ages, of all colors, from all walks of life. That we're living, we're thriving. That, in fact, we don't look any different from anyone else. And that it could be you."
If you happen to have Cinemax, it's on tonight at 7 and repeats December 10 at 6am.
You may have missed…
Destination Florent [tr]
Tunick Watch: Naked on the Coast of Spain [tr]
Spencer Tunick Celebrates Skin in Caracas [tr]
Moons for the Misbegotten [tr]
A River of Flesh [tr]