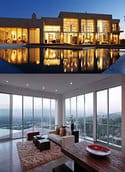 London's Daily Mail reports that the house pictured in these photos is a favorite to become the L.A. residence of David and Victoria Beckham.
"A hilltop property with an infinity pool that gives the impression one could almost swim over the edge and plunge headfirst into the bright lights of LA, is believed to have won Victoria's heart. The top choice is said to be a relative bargain at £4 million and is only a 10-minute drive through the canyons from their good friends Tom Cruise and Katie Holmes's place."
The question is, will the Beckhams "plunge headfirst into the bright lights" of Scientology once they arrive. Given Cruise's current favor with the press, I think Becks might want to think twice about spending too much time with their new neighbors, or his image could go from hero to zero pretty quickly.
You may have missed…
David Beckham Coming to America; Signs with L.A. Galaxy [tr]