Rainer Schoenfelder, an Austrian skier and sometime pop star, lost a bet with his physiotherapist who had been treating him for neck and back pain. He told his therapist that if the pains subsided by Wednesday, he'd ski down Switzerland's Lauberhorn in the altogether.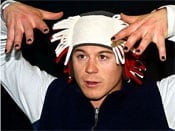 Well, his pains subsided and was forced to hit the slopes wearing yellow boots, an orange helmet, and gloves, catching the attention of, well, just about everyone, including a nearby photographer.
Said Schoenfelder: "Somehow I didn't notice the photographer. It was an internal bet and of course the whole thing wasn't planned for the public. I am happy, though, that the pains have eased up and that it was not cold when I honored my debt."
Austria's head ski coach Toni Giger didn't have a problem with it: "I have no problem with nudity in general. I haven't seen the pictures but no one was hurt. … This was typical Schoenfelder behavior."
I'm sure Schoenfelder's glad that he didn't take a spill.
After the jump, Schoenfelder's ski run…

Click photo for full (NSFW) image.