Washington state introduces gay marriage bill.

Designers disrobe: First it was Tom Ford; now Dolce & Gabbana take it off for Steven Klein in W magazine.

New Jersey says clerics are not required by law to perform same-sex union ceremonies: "In a letter to the state registrar, Joseph A. Komosinski, Attorney General Stuart Rabner wrote that clergy members could decline to perform civil union ceremonies without violating the law, if performing such ceremonies would go against their 'sincerely held religious beliefs.'"

How Nancy Pelosi's womb is advancing the gay agenda…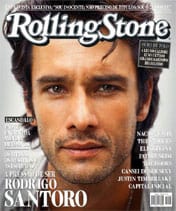 Spoiler: New Brazilian Lost hottie Rodrigo Santoro reveals his character's fate in the upcoming TV season.

Outfits in reverse: Alan Cumming and Grant Shaffer's first wedding photo.

Bush plans veto of stem-cell research bill just passed by the House. Kos: "Let's recap the utter absurdity of remaining conservative opposition to Embryonic Stem Cell Research. You're holding a cryogenic container with a blastocyst inside. It's a ball of cells (HT: PoliticAl2008) roughly the size of the period at the end of this sentence. You have a choice of putting it in an incinerator or placing it in a petri dish and using it for research. George Bush and his shrinking base somehow reason, using unknown, convoluted pseudo-logic, that destruction by fire is saving it while the petri dish represents destroying it."

Gay porn stars team up for anti-meth campaign.