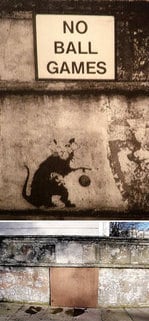 Last November, I posted about a door in Liverpool featuring one of street artist Banksy's famous stencil pieces that had to be put under lock and key after a group of men posing as workmen tried to pry the door from its hinges in an attempt to steal the sought-after artist.
Well, it appears another group of thieves succeeded in prying one of the stencil works from a wall in Gloucester Gardens, Paddington:
"Vandals using an angle grinder have cut out the entire section of wall and put the painting, bricks and all, up for sale on auction website eBay for £20,000. Resident Marion Lau-Mackaay said: "For the sake of a few thousand pounds, someone has removed a much-loved part of the wall. 'My six-year-old son loved it so much he did a painting of it after he heard it had gone and sent it to Banksy with a letter saying, I hopes this makes you feel better'.' David Hopwood, another resident on the street, said: 'I complained to the police but they said as it wasn't a robbery or an assault, they couldn't help. Westminster council was disinterested.' Although the rat of Gloucester Gardens was painted during the early days of Banksy's career, the Bristol-born artist was so fond of it that he included it in his bestselling art book Wall And Piece. Following a string of complaints to eBay, the section of wall has been removed from the site."
Funny how value suddenly creates an incentive for people to start cleaning up graffiti.
You may have missed…
Banksy and Warhol: They're a Steal [tr]
Banksy for Sale, Banksy for Free [tr]