Blogger Lane Hudson reports from the anti-war rally in DC over the weekend: "The most striking thing that I noticed was the diversity of people present. Young and old, rich and poor, all kinds of races and cultures, and liberals and moderates. Heck, maybe there were even a few Republicans present! (I did see a fur coat!) These are the faces of our progressive movement. We are like herding cats, yet we always manage to come together for a cause. Not everyone there had the same opinions on the war. We didn't all agree with every speaker. But, we all agree on one thing. We need a change of course on Iraq policy."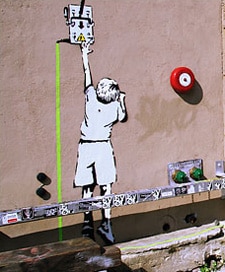 Thieves aren't the only ones targeting the sought-after graffiti of street artists like Banksy. Now, vandals are after it too: "The passion for destruction is a creative passion. We are all capable of manifesting our desires directly, free of representation and commodification. We will continue manifesting ours by euthanizing your bourgeois fad."

Clay Aiken caught on webcam again?

AfterElton talks to Matthew Rhys of Brothers & Sisters about his gay character Kevin. Recently, his co-star, actor Jason Lewis, told Extra that kissing a man onscreen was "scary". Does Rhys feel the same? "I don't think it's ever really problematic. I just think if you're fortunate enough to be confident and secure in yourself, and you know it's a role you play, I don't see where the problem lies, really. Actually, my first theater job was a gay part with a lot of kissing it in it. So, I wouldn't say it was a hurdle really, but I got over that really early on. You realize there's nothing to it."

Happy two-year anniversary to our friends Josh & Josh.


Prince Harry back with his regiment.

Wanda Sykes on Ellen: "Gay is the new black."

The New Year's Eve Baker's Dozen assault — the latest: "At midnight the partygoers formed a circle in the dining room with the Baker's Dozen members, who were dressed in blazers, ties and khakis. They locked arms and sang 'The Star-Spangled Banner.' Fairman recalled the uninvited guest being annoyed and announcing, 'This is the gayest s — I ever heard. What a bunch of fags.' 'I think he was envious of these boys who were talented, likable and having a good time. I think that's why it all started,' she said."