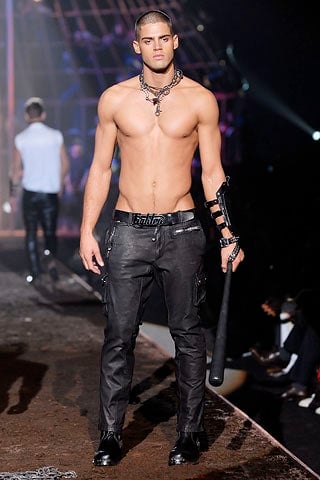 Model Chad White (a favorite here at Towleroad) appeared on the runway in Milan for gay twin designers Dsquared2 (Dan and Dean Caten) holding a black baseball bat. An interesting choice, considering White's love of the sport. In addition to saying he's "honored" by his gay fanbase, in a recent interview with OhLaLa Paris, White talks of his sports background:
"Baseball is a hard subject for me to discuss. I miss it, since I was young enough to remember I'd always been dreaming of being a baseball player. As I was going through high school I was a standout. Have you ever felt that you were meant to do something… Baseball was that feeling for me. Turns out different but I felt that there was no stopping me to become pro. I had some really influential ex pros behind me believing in me also. So my dream to play in Yankee Stadium seemed just fingertips away. Then one game I was pitching and I overthrew a pitch and tore something in my elbow. I balled [sic] my eyes out for days. My dream was gone."
At least he can live it out on the runway.
You may have missed…
Chad White and Ryan Daharsh Go Threadless [tr]
Chad White and Clint Mauro: Window Dressing [tr]
Chad White and Steven Klein do Swimwear [tr]
Midwestern Prime: Ryan Daharsh [tr]
Two more shots of Chad from the Dolce & Gabbana show after the jump…