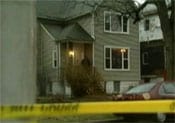 Police investigating the shooting of six people at a party at a south side residence known to neighbors as the "gay house" have found nothing that would indicate the shooting was motivated by anti-gay bias.
Said police spokeswoman Monique Bond told the Sun-Times: "At this point it has not reached that level. Nothing has given us any indication there were elements of a hate crime involved."
Of course police have not yet spoken to the attackers, who remain at large. The shooting occurred at around 5 am, whne two masked gunmen kicked down the doors and started firing.
Previously
Masked Gunmen Shoot Six at Chicago "Gay House" Party [tr]