Ian Watkins, a Welsh singer from the former British pop group Steps, has decided 2007 is the year to come out of the closet. Steps split up in 2001 but tonight he's set to join the cast of the UK's Celebrity Big Brother.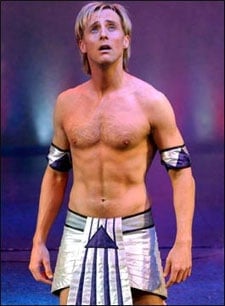 Watkins (seen here in a costume for Joseph and the Technicolor Dreamcoat), came out to British tabloid The Sun:
"I come from a small valley in Wales and it just wasn't the thing to do to be gay. It's a bit of a cliche — but I was the only gay in the village. People get married at 21 where I come from and if you don't do that, you're questioned. You certainly don't come to London and become a pop tart. I was very different and it was very hard…I could never have done this years ago, never. I was still coming to terms with it myself. But I'm comfortable with who I am now and I want everyone to know. I feel like a weight's coming off my shoulders. It's nice. I'm glad I'm doing this and feel it's the right time."
Watkins says that he recently ended a ten-year affair with the manager of Steps, Tim Byrne. He has been out to close friends and family for nine years.
Added the singer: "I've always felt a bit different, even as a very small child. At school people would tease me and call me names — 'queer' and that — and I started to question whether that was right. I can't really pinpoint when exactly I knew I was gay…You don't just wake up one morning and have a lightbulb moment and think, 'I'm gay'. That's why I never said anything earlier — I didn't know what I was. These days my friends' kids are openly gay at 16 or 17 and I think that's great. I wish I could have done but I never had the courage."
We wish Ian the best of luck on his new journey. Who's next?
You may have missed…
Gay in 2006: The Ins, Outs, and In-Betweens [tr]