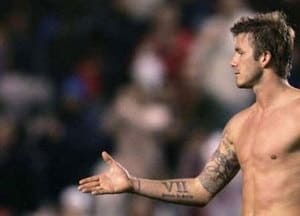 U.S. Soccer will never be the same. David Beckham has announced that once his contract has expired with Real Madrid at the end of the summer, he'll be headed to the U.S. to play for the L.A. Galaxy.
Becks: "This week Real Madrid asked me to make a decision regarding my future and the offer to extend my contract for a further two seasons. After discussing several options with my family and advisers to either stay here at Madrid or join other major British and European clubs, I have decided to join the Los Angeles Galaxy and play in the MLS from August this year. I would like to thank the supporters and people of Madrid who have made my family and I feel so welcome in my time here, making this an extremely difficult decision to make. I have enjoyed my time in Spain enormously and I am extremely grateful to the club for giving me the opportunity to play for such a great team and their amazing fans. I am proud to have played for two of the biggest clubs in football and I look forward to the new challenge of growing the world's most popular game in a country that is as passionate about its sport as my own. For the rest of this season I will continue to give 100% to my coach, team mates and fans as I believe Fabio Capello will bring this club and its supporters the success they truly deserve."
The five-year deal is reportedly worth £128m (that's $248 million here across the pond).
You may have missed…
David Beckham Irked To Be Cleaning House in the Nude [tr]
Beckhams Arrive in Rome for Tom Cruise Wedding [tr]
Everybody's Checkin' Out David Beckham [tr]