A death that may hit closer to home for many is given some attention from ESPN, as they recall the life of Anthony Castro. I mentioned his death briefly last week, but I'm bringing it up again because it's nice to see a major sports outlet giving some ink to a deserving soul.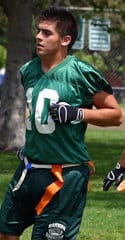 Castro died last week when the driver of the truck he was in crashed down a ravine in the mountains of Southern California. Here's the Outsports post if you missed it. This is from the ESPN piece:
"I never had the pleasure of meeting Anthony, but when I read about his story, tears filled my eyes — in large part because he died so young, but also because he lived so courageously. You see Michael Anthony Castro, the three-sport star athlete and most popular kid in school, was openly gay. Came out when he was a sophomore.

'He caught a lot of crap over the first six to nine months after coming out,' says Phil Takacs, a Banning High counselor. "Sometimes he would come to my office and ask if he could just spend the rest of the day there. He would say that he couldn't take being called 'faggot' any more today and just needed a break. He even thought about quitting sports. But over time, Anthony just got tired of the other kids making him feel bad for who he was.

One day he was in practice and one of the other wrestlers was giving him a bunch of crap about being gay. Anthony looked at the kid and said 'You have a problem with me; why don't we take this to the mat?' This guy wrestled in the heaviest division, but Anthony pinned him in less than 30 seconds. That guy never said anything else again.'"
Every high school should have such an individual. May Anthony rest in peace.