Since we're on the topic of horses today, there's nice piece about Barbaro, euthanized yesterday after an eight-month ordeal, from Jane Smiley in the Huffington Post.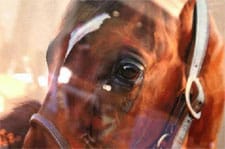 "Some observers have been angered by the outpouring of sympathy toward Barbaro, but there is something extra large about the death of a horse…
…I watched the Preakness with some lifelong racing people. When Barbaro got injured, we turned the TV off. All of us had seen it before; everyone who loves racing has seen it all too many times. It is the paradox of racing. His dynamic beauty and his exceptional heart were gifts Barbaro inherited from his racing forebears, who had the luck and toughness to run and win and prove themselves worthy of reproducing. Subsequently, during his medical saga, he showed that he was intelligent, too. According to a friend of mine who talked to trainer Michael Matz in the summer, Barbaro knew when he needed some pain relief–he would stand by the sling and shake it until they put him in it, and when he was tired of it, he would shake himself so that it rattled, signalling he was ready to be taken out. And then he would go to his stall and lie down. Did he want to survive? It seemed as though he did.
In a great race horse, the heart and mind do the running, and the body tries to hold up…"
Barbaro's painter recalls horse's strength [evening sun]
Site of Barbaro's greatest triumph could be final resting place [cbc]
Rest Well, Barbaro: Derby winner was a classic story of hope [daily times]