New details have surfaced regarding the December 2005 death of a pledge at a Lambda Phi Epsilon fraternity house party at the University of Texas Austin.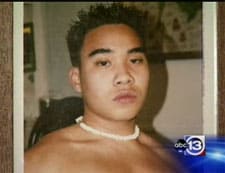 A medical examiner's report says that freshman Phanta "Jack" Phoummarath, whose body was found the night after the party, had been defaced from head to toe in offensive graffiti:
"The Travis County medical examiner's office reported that partygoers used green and black markers to write "FAG," "I'm gay" and "I AM FAT" on Phoummarath's head, face, torso, legs and feet. Someone also added drawings depicting naked men and women and blackened his toenails."
Phoummarath died of acute alcohol poisoning and was found to have a blood-alcohol level five times the legal limit.
According to the family's attorney, Phoummarath was not gay. Three members of the fraternity were indicted last month on hazing charges.
Dead student's body defaced with anti-gay comments [ap]
You may have missed…
Officials Investigate Possible Sexual Assault at Frat Hazing [tr]