L.A.-based openly gay rapper Deadlee says he'll be headlining the first regional tour of gay and lesbian rap and Hip-Hop artists, called the Homorevolution Tour 2007, beginning in March.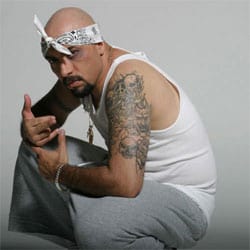 Deadlee who says he is tired of the homophobic status quo present in rap and Hip-Hop, has called out some of his fellow rappers for their anti-gay language and homosexual tendencies in an interview with AllHipHop.com:
Says Deadlee: "Eminem was called out for his juvenile, hateful approach to homosexuality, especially in his song 'Criminal.' He was the biggest rapper at the time and if he used the same song as a diss to Blacks or Latinos, he would probably be dead. Eminem likes to pick on the 'weak' but gay[z] aint weak and he might be a f*g himself. He knew all the subcultures in that song.
Deadlee also comes down on DMX's references to "homo thugs" and constant use of fa**ot in his lyrics: "I find it crazy when his videos are very homoerotic. All the guys kicking it with their shirts off!"
He takes issue with rapper 50 Cent, who told Playboy in April 2004: I ain't into fa**ots. I don't like gay people around me, because I'm not comfortable with what their thoughts are. I'm not prejudiced. I just don't go with gay people and kick it – we don't have that much in common. I'd rather hang out with a straight dude. But women who like women, that's cool."
Says Deadlee: "F*ck him. I don't like ignorant b**ches around me, so he can suck my gun. He is a classic man who had Homo-feelings and chooses to lash out because he is afraid he might act out on his true feelings. 50 Cent has deep rooted homosexual tendencies."
Joining Deadlee on the Homorevolution Tour are gay and lesbian MCs Johnny Dangerous, Delacruz, Melange Lavonne, Salvimex, Bigg Nugg and JFP. The tour will hit ten cities in Southern California and the Southwest.
Related
Kanye West Revisits Homophobia [tr]
Usher Digs homophobia [tr]
Report: Busta Rhymes Hates Fa**ots [tr]