Doug Blasdell, a trainer on Bravo's reality series Work Out, died over the weekend after an abrupt hospitalization, according to the network. Bravo released the following statement: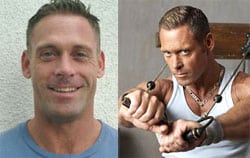 "All of us at Bravo are deeply saddened by the terrible news of Doug Blasdell's untimely passing. He was an inspiring trainer, an exuberant colleague who made the gym a very fun place each and every day and was extraordinarily warm in all aspects of his life. Our heartfelt sympathy goes out to his many friends and colleagues at this very difficult time."
AfterElton interviewed Blasdell in July and he talked about participating in the Bravo show: "It's a beautiful thing because it really focuses on being gay and the gay community in general. The people they picked represent our community very well. I mean, there's drama, of course. There is in any community. But the three of us give different examples of what it is to be gay. And none of it is negative. There's nobody voted off. It's about taking care of yourself and eating right. It really is about being a trainer. Yeah, we drink alcohol, but the show represents healthy living. Physically and emotionally."
There has been no official report released on cause of death. We send our condolences to Blasdell's family and friends.