TV Guide's Michael Ausiello reports that embattled Grey's Anatomy actor Isaiah Washington has fired his longtime publicist and picked up 42 West's Allan Mayer and Kelly Mullens, a team supposedly adept in "crisis situations".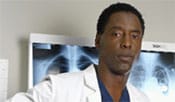 Ausiello also reports that an ABC source tells him that the network is weighing its options regarding what form Washington's punishment might take, while the show's creator, Shonda Rhimes, has yet to publicly denounce her star's behavior.
Following Washington's reiteration of the word "faggot" in the Golden Globes press room, Rhimes, after giggling nervously, stepped up to the mic and said: "Things were created in a very odd way by the press that were not necessarily completely reported as true … [but] I don't think any reporter made it up."
The NYT reports in today's edition that ABC executives have been ordered not to comment beyond a prepared statement issued by the network as Washington's fate is decided.
Will this be the week that ABC shows they will not tolerate hate speech or will they decide it's still okay to bash gays?
You may have missed…
Isaiah Washington Apologizes for Anti-Gay Remarks [tr]
ABC issues Statement Regarding Isaiah Washington [tr]
ABC Must Fire Isaiah Washington Over Anti-gay Remarks [tr]