Actor Isaiah Washington, still under fire for the anti-gay slurs he made toward castmate T.R. Knight, met Monday with GLAAD president Neil Giuliano, and Kevin Jennings, founder and executive director of GLSEN.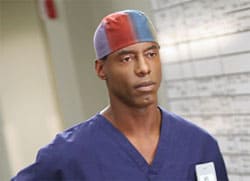 The three reportedly discussed the possibility of an "ongoing partnership to combat prejudice and intolerance" directed at the gay and lesbian community, according to a press release issued by GLAAD.
Said Giuliano: "Isaiah understands that he is going to be judged by more than just his apology. He knows that his future actions – including the genuine first step that today's meeting represents – will demonstrate his sincerity in becoming part of the solution to anti-gay bigotry. We welcome the opportunity to work with him in the coming months to help improve the cultural climate faced by LGBT people across this country."
Jennings added, "GLSEN is thankful to ABC for arranging the meeting and hopeful that Isaiah Washington has come to a deeper understanding of the power of words, especially as we launch No Name-Calling Week in schools across the country. As a parent himself, Isaiah Washington seemed to particularly appreciate the impact these words have on young people in schools and expressed an interest in becoming an ally in GLSEN 's effort to educate young people about the negative impact of name-calling and bullying."
The two groups say they expect to meet again with Washington in the coming weeks to begin implementing their work together.
It is now ABC's turn to step up to the plate and demonstrate that they have zero tolerance for anti-gay bigotry by firing Washington.
According to Kristin Veitch from E!, the network may be considering such a step. Says Veitch: "I just received word from a highly placed source within the Touchstone/ABC family that ABC and Disney executives are currently considering the option of firing Isaiah Washington from Grey's Anatomy, effective immediately, without having him appear in any kind of farewell episode. According to this reliable source, if the network does follow through with this option, the producers are likely to run a full-screen announcement at the beginning of the first Burke-less episode that announces Isaiah Washington is no longer part of the show."
RELATED: CNN mocks The New York Times for refusing to print the F-word, host Glenn Beck calls it a "naughty name"…
Imho this whole episode has dragged out way too long. Let's hope there is some more definitive action from ABC soon.
You may have missed…
Isaiah Washington Fires Publicist as ABC Weighs Options [tr]
Isaiah Washington Apologizes for Anti-Gay Remarks [tr]
ABC issues Statement Regarding Isaiah Washington [tr]
ABC Must Fire Isaiah Washington Over Anti-gay Remarks [tr]