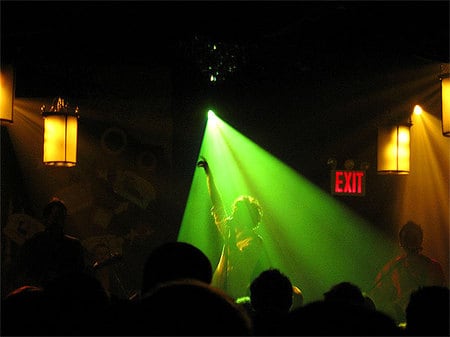 Last night I had the opportunity to attend a special showcase by Mika, the London-based, Lebanese pop star whose catchy single "Grace Kelly" just hit #1 on the UK charts, and whose emergence in the U.S. and Britain has received more advance hype than the iPhone. Fortunately, Mika lives up to it.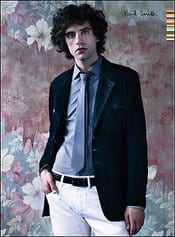 I shot these photos at the event which was held at The Box, a tiny cabaret space on New York's Lower East Side. After about an hour, the ebullient curly-top singer, who has earned comparisons to Elton John, George Michael, Freddie Mercury, Rufus Wainwright, and Jake Shears, emerged on stage and ran through a selection of tracks from his album Life in Cartoon Motion. He finished up with the single "Grace Kelly", which he apparently wrote as a flip-off to record labels who told the singer he should sound a certain way.
I managed to catch a glimpse of John Cameron Mitchell at the event, which seemed entirely appropriate as Mika's energy can be very Hedwig-esque, and my boyfriend spotted former supermodel (there for the Celebrity Mole fans) Frederique bopping along to the music. Mika draws an eclectic crowd.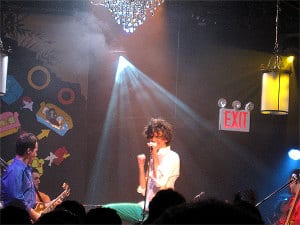 Mika's bubble gum pop translates flawlessly live. We were sent away from the showcase with a gift bag containing a CD, a huge selection of candy, and a special Mika hacky sack, but bribes weren't necessary. I think most of the audience was already sold. I am, anyway.
For those of you who become dangerously addicted to songs with catchy, fizzy, narrative lyrics that tell a story, Mika is your man. I drank the Kool-Ade, and now I'm hooked.
It will be interesting to see whether he can catch on in the U.S. The Scissor Sisters have seen chart-topping success in the U.K., while in the U.S. they remain niche artists. I think Mika's optimistic songs should find a bigger audience here — they're already playing as MTV promos, and Mika just signed a huge deal to front designer Paul Smith's spring/summer 2007 campaign (above right). Smith's colorful image suits the cartoon-obsessed singer to a T.
Two of Mika's tracks are available for download on iTunes:
The full album drops on February 5th.