Masked gunmen stormed a house on Chicago's south side and shot six men at a party early Sunday morning. The house is known to neighbors as the "gay house" because it has been rented since April by two gay men who reportedly have "raucous parties almost every weekend and many times on other nights of the week" and "flamboyant" visitors.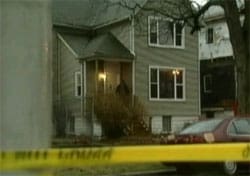 Police are trying to determine whether or not the shooting can be considered a hate crime, a difficult task as the gunmen were unidentified and did not say anything upon entering.
One neighbor told the Sun-Times: "We always be seeing them, and they always be looking at people. They give you that gay look, like you're a female or something. That ain't cute. People be ready to fight . . . I knew something was going to happen to that house."
Six victims were wounded, two critically, and all were between the ages of 19 and 35. There were approximately 100 people at the party. The gunmen are still at large.
Keith Boykin makes note of the Chicago Woodlawn neighborhood's history. In the early part of the 20th century, white residents were adamant about black residents not moving in until the father of Raisin in the Sun playwright Lorraine Hansberry fought them in court, and won. Boykin laments the current neighborhood's intolerance of its gay and lesbian residents: "What a tragic irony that 50 years after Hansberry and her family fought for the right of blacks to live in that neighborhood that new black residents would challenge the right of black gays and lesbians to continue living there."
6 Gay Black Men Shot at Chicago New Year's Party [rod 2.0]
Six Men Shot at Black Gay House Party [keith boykin]