George Michael is to appear in court on January 11 to face official charges from the police that he shouldn't be behind the wheel.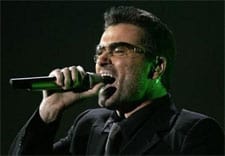 Michael's 2006 foibles have certainly not dimmed international interest in the singer. The Daily Mail reports that George and his 20-person crew were hired for £1.5 million to sing for an hour at a Russian billionaire's New Year's Eve party, 20 miles outside of Moscow: "The businessman contacted George directly and asked him to perform. He has a vast private estate just outside Moscow and had turned his sports hall into a nightclub especially for the party. It was a fun night and George was back home in Britain by morning."
According to the paper, the gig makes George Michael the highest-paid entertainer in modern Russian history.