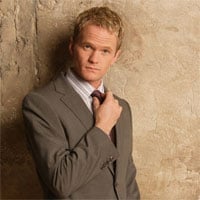 TV Guide's Michael Ausiello reports that Neil Patrick Harris commented on the Grey's Anatomy F-word scandal yesterday at a CBS press tour party. Says Ausiello:
"T.R. has proven himself to be an incredibly classy, dignified guy," [Neil Patrick Harris] told me. "I'm impressed that Katherine Heigl said what she said. I was shocked that it all reared its ugly head again."

Harris — who came out just weeks after Knight — wouldn't comment on what form Washington's "punishment" should take. "It's impossible for me to make any kind of comment about that because I wasn't there when it happened. It's just disappointing that it's… cyclical."

Meanwhile, the word from the Grey's set is that Washington's problems extend far beyond his affinity for a certain derogatory f-word. Per a source, his behavior has been so "inappropriate and offensive" for so long that producers have often been forced to intervene.
Hopefully, ABC will do the right thing by acting quickly and demonstrating that there are serious consequences for those who use hate speech.