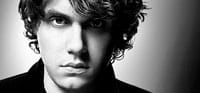 Everybody's offering their $.02 on what should be done about Isaiah Washington, including John Mayer, who suggests on a blog entry today that rather than fire Washington, the show's writers should out his character Preston Burke as a gay man.
He even offers up a few possible scenes. Here's one of them:
CUT TO:

STAGE

(The band plays the final exciting beats of "Kiss You Off". Jake Shears, The SCISSOR SISTERS lead singer [himself] takes the mic.)

JAKE:

Thank you very muuuuuuch Seattle!!! This next song is called "I Don't Feel Like Dancing"and tonight, we want to send this song off to a very special man in the crowd, Preston Burke, webmaster of the biggest SISTERS fan site, idontfeellikedancing.com!!! Thanks Preston! The tea cookies you left backstage were deeelish!!!

(CROWD APPLAUDS WILDLY WHILE THE BAND LAUNCHES INTO THEIR HIT SINGLE. PRESTON, now downright sheepish, grabs his coat and small pleather DKNY bag, fumbling towards the exit.)

BURKE:

I think I left a scalpel in that mime today. See ya!!!
And….scene.