First same-sex couple to tie the knot in Switzerland are 89 and 60 years old, and have been together for 30 years. They registered their partnership on Tuesday in Locarno in the southern Swiss state of Ticino. Said one witness: "It was very moving. At some point I think we all had tears in our eyes."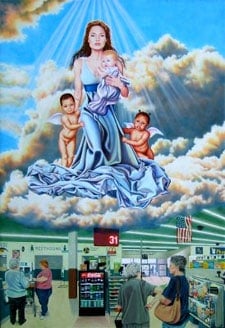 Angelina Jolie is the Virgin Mary, Wal-Mart is place of worship in new painting.

Louisiana may have bigger problems than broken levees. Researchers say that much of south Louisiana is slowly sliding into the Gulf of Mexico: "The southward movement, the study says, is triggered by deep underground faults slipping under the enormous weight of sediment dumped by the Mississippi River. The slippage, though, is confined to a large egg-shaped area approximately 250 miles long and 180 miles wide that encompasses the delta of the Mississippi, which was built up by river deposits over the past 8,000 years, the report says."

REPORT: New York's HX magazine fires entire sales staff.

Grace period over: Megan Mullally talk show cancelled.


Celestial shower: objects enter atmosphere in dazzling display over Denver.

SURVEY: Gays use social networking sites, visit blogs more than straights. "Some 33 percent of LGB adults surveyed said they used MySpace, with heterosexual users only reaching 28 percent. The figures for Facebook were even at 11 percent each, while Friendster attracted 11 percent of LGB respondents compared with 4 percent of heterosexual respondents. Twenty-seven percent of LGB adult internet users said they visit YouTube.com for at least one hour or less per week, compared with 22 percent of all heterosexual respondents. Meanwhile, almost one in four LGB internet users said they visit blog websites, compared to 12 percent of heterosexuals, with more than one in three LGB visitors seeking out their favourite blogs every day."