Jake Gyllenhaal arrived after a drag-tastic Saturday Night Live performance at Dock's Restaurant in New York City. If you haven't yet seen the opening monologue in all its glittering glory, feast your eyes (as long as it's still up):

Jennifer Hudson had better watch her back. (clip courtesy of virtual matter)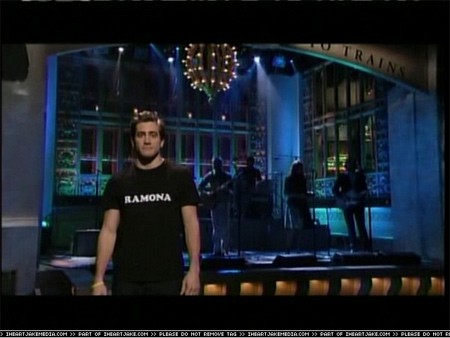 Jake's wardrobe was the topic of some discussion. He donned a black T-shirt that was most likely a shout-out to his young niece, Maggie Gyllenhaal and Peter Saarsgard's daughter, Ramona. The other item of clothing folks are speculating about is a green and yellow jacket quite similar to one worn recently by a friend of Jake's. Make of the sartorial switcheroo what you will.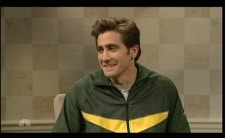 (photo source)
You may have missed…
Jake Gyllenhaal Has a Grocery "Manny" [tr]
Jake Gyllenhaal Flees Fire at Inn, Assists Recovery [tr]