Warsaw gay groups propose pink triangle monument to honor homosexuals killed in the Holocaust. Some city council leaders, like Marek Makuch of the Prawo i Sprawiedliwość party, are outraged: "It is a devastating idea and we shall not agree to this. I have not seen in Warsaw a monument for Catholic priests or disabled people. The triangle would be a promotion of homosexuality. We cannot compare Warsaw with Berlin – Berlin is the capitol of European homosexuality, and here we have our values."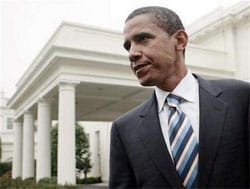 Barack Obama takes first steps to enter 2008 Presidential race.

Fidel Castro reportedly in "grave" condition.

Judy Shepard and foundation are finalists for the Volvo for Life awards.

Senate votes 87-0 to strip benefits from lawmakers convicted of bribery, perjury and fraud. John Kerry: "With this vote, we are preventing members of Congress who steal or cheat from receiving a lifelong pension that is paid for by the taxpayers." Amen.

Rarely-produced Tennessee Williams one-act coming to London: "And Tell Sad Stories of the Death of Queens is set in New Orleans' French Quarter, where Williams lived as a young man. When he moved there in 1939, the area's cheap rents and air of age and decay attracted artistic community and alongside them gays, transvestites and other people on the margins of society. The play concerns a gay transvestite who tries to mend a broken heart by taking up with a short-tempered younger sailor. "

Log Cabin Republicans pressure Schwarzenegger to move on gay marriage. California LCR head: "When it comes to marriage, we believe in the fundamental fairness of the American people. There has never been a major civil rights movement that has failed in the United States."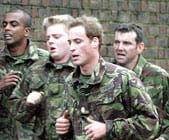 The Royals are ready for combat.

Czech masseur comes out on top in discrimination case. Groundbreaking case is the first time a Czech court has awarded damages for discrimination based on sexual orientation: "Mr Sydor had been promised a job as a masseur at a health centre, but when the manager found out he is gay he refused to hire him. In court the centre's management said they had found a better qualified candidate for the job."