Several members of the Yale all-male singing group The Baker's Dozen were injured in San Francisco on New Year's Eve in a homophobic attack that left them bruised and bloody.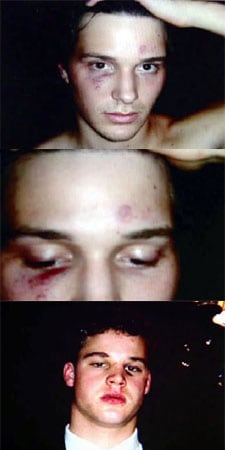 During a performance at a New Year's Eve party, their attackers taunted them with gay slurs — "fag" and "homo" — according to one member, and then five or six men ambushed them outside the party, leaving them with scrapes, sprained ankles, black eyes, and concussions, according to ABC affiliate KGO (PHOTOS):
"The trouble started at midnight after The Baker's Dozen sang "The Star Spangled Banner." Witnesses say a few local young men didn't appreciate the attention the Yale students were getting, made fun of their conservative dress and began taunting them and making threats.

Leanna Dawydiak, Hosted Party: "They had something here special that these other fellas obviously didn't have and that irritated them."

Witnesses say 19-year-old Richard Aicardi was the most aggressive.

Sharyar Aziz: "'You're not welcome here,' he called a few members of the group, whether it was fag or homo, very, I would say, juvenile taunting."

Aicardi took out his cell phone and called in reinforcements.

Reno Rapagnani: "He said, 'I'm 20 deep, my boys are coming.'"
One of the victims, Sharyar Aziz, a member of the varsity squash team, was rushed home for reconstructive surgery which included the insertion of two titanium plates in his face. He'll miss the athletic season. Said Aziz: "I can't just look back at that incident and be depressed for the next two months. I have to learn to deal with what's been given to me."
The sick part of this incident is that even though the police detained four men at the scene of the incident, they were released and no arrests have been made in the case. Police did not bother to take photographs of the victims either. Some have accused the police of treating the perpetrators lightly because three of them are the sons of prominent SF pediatrician Eileen Aicardi.
An investigation is now underway.