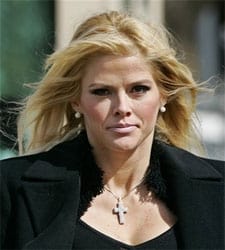 Former Playboy Playmate, model, reality show star, and Trim-Spa spokeswoman Anna Nicole Smith died after collapsing this afternoon at the Seminole Hard Rock Hotel and Casino.
Access Hollywood reports: "Anna Nicole had been rushed to Memorial Regional Hospital in Hollywood, Florida, shortly after 2 p.m. EST after collapsing at the Hard Rock Hotel & Casino in Hollywood. Local police were reportedly forced to shut down the streets to expedite rushing her to the hospital. According to reports, fire crews and emergency personnel performed CPR on Smith and put a tube down her throat. According to a witness on the scene, when rescue workers arrived, Anna Nicole was unresponsive. Her bodyguard was also reportedly visibly shaken at the scene."
Police officials said they were told by the hospital that Smith was dead at 2:49 pm. Cause of death has not been disclosed, though some are speculating that heart issues are to blame, and others allege she was the victim of a drug overdose.
Smith leaves behind a five-month-old daughter, Dannielynn Hope Marshall Stern.