On Wednesday, at hearings on the State Department's 2008 budget, Secretary of State Condoleezza Rice repeatedly suggested that qualified language experts were needed at the agency, prompting this delicious exchange with Representative Gary Ackerman (D-NY).
Ackerman noted that at least 322 language specialists with skills in Arabic, Farsi, and Korean have been discharged from the U.S. Military under the "Don't Ask, Don't Tell" policy began in 1993. Ackerman suggested the State Department hire back those language specialists, but not before getting in a hilarious zinger.
Ackerman: "It seems that the Defense Department has a 'don't ask, don't tell' policy when it comes to homosexuals. You don't have such a prohibition in your agency, do you?"

Rice: "No, we do not."

Ackerman: "Good for you. Well, it seems that the military has gone around and fired a whole bunch of people who speak foreign languages — Farsi and Arabic, etc…after they trained them in their foreign language schools for 63 weeks, and presumably they all pass all kinds of security things, and many of them told on themselves and were fired. For some reason, the military seems more afraid of gay people than they are against terrorists, because they're very brave with the terrorists. I mean, If the terrorists ever got a hold of this information, they'd get a platoon of lesbians to chase us out of Baghdad. The affirmative suggestion that I would make is why can't the State Department look to pick up all those people that were fired from the military because apparently you don't have a policy, and put these three dozen Farsi and Arabic people to work doing what you're suggesting would cost a lot of money to train, etc., because we have them. Can we marry up those two — or maybe that's the wrong word — can we have some kind of union of those two issues, that you might be willing to –"

Rice: "Congressman, I'm not aware of the availability of people, but I certainly will look at what we are doing right now."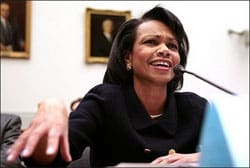 You have to love the jab Ackerman gets in there about gay marriage as well.
Sharon Alexander, deputy director of policy for Servicemembers Legal Defense Network (SLDN), responded to the exchange:
"Considering the critical shortage of linguists in the armed forces, a platoon of Arabic-speaking lesbians may be just what the military needs. In fact, faced with the shortage of language experts, the military would do well to consider Congressman Ackerman's point. We cannot afford to lose critical personnel because of 'Don't Ask, Don't Tell.' There are many brave gay men and lesbians who report for duty every day, and their contributions are immeasurably important to our national security. Secretary Rice would have no trouble finding gay linguists. In fact, our government could go a long way in addressing the shortage of language expertise by doing just as Congressman Ackerman suggests. SLDN would be happy to introduce Secretary Rice to our many clients who speak Arabic but have been dismissed because of the ban."
You may have missed…
Outed by Email: An Army Sergeant's Digital Discharge [tr]
The New Military Pin-up: Beefcake Marines Strip for Wounded Vets [tr]