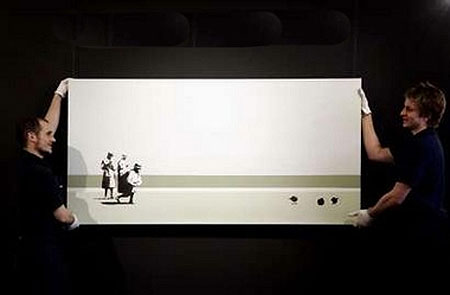 Sotheby's is holding what many are calling London's largest art sale in history this week. On Monday the auction house brought in in a whopping £94.9 million in an auction of modern and impressionist works.
Today, the Banksy I posted about in January, "Bombing Middle England" (pictured above), was scooped up for £102,000, a record price. The painting depicts three people lawn bowling with bombs. I'm not sure if the two gloved gentlemen were included, but that would have been a nice bonus. Banksy works set records across the board, although one failed to sell. It was the only piece that bore a signature. More go on sale tomorrow.
In other Banksy news, a couple of homeowners in Bristol, England (which is Banksy's birthplace) have refused to sell their house to a set of prospective buyers because the new owners wanted to destroy a Banksy mural pictured below) that was painted on an exterior wall several years ago.
The owners value the work so much that instead, they've decided to sell the 5′ x 25′ mural, and give the house away with it.
The sale is being handled by the Red Propellor Gallery, and more shots of the mural can be seen there.