A 38-year-old anti-gay French blogger who advocated the killing of "media personalities" and "government officials" whom he alleged were gay has been apprehended by authorities in Martinique. Officials did not name the man, who said he created the blog while on vacation in Atlanta. The blog called for "death to (homosexuals) . . . death without exception". There is no further information at this time except that he has been charged with "incitement of murder" and faces up to five years in prison and a $58,200 fine if convicted.

Amanda Lepore sparkles down the runway as Glinda the Good Witch.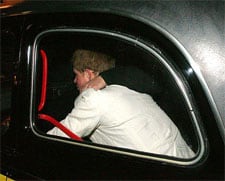 Guy Ritchie, Madonna, and Prince Harry reportedly swapped African baby tales at Mayfair's Mahiki Club in London recently: "The unlikely threesome discussed Madonna and Guy's adoption of African baby David Banda last October while knocking back £100-a-pop champagne Treasure Chest cocktails. The 21-year-old prince reportedly had tears in his eyes as he spoke to Ritchie at length about the orphans he has befriended in Africa."

Now hear this: New York Senator Carl Kruger introduces bill to ban iPods, cell phones, and other electronic devices in city crosswalks.

Surf's up again for Matthew McConaughey.

Drag queen to herald Copenhagen, Denmark as a "gay utopia".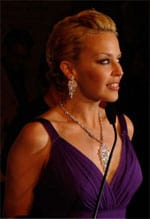 Blogger Tricky reports from opening night at the Kylie Minogue exhibition at the Victoria and Albert Museum.

Sexing up the male athlete: "One reason behind the apparent ease with which athletes abroad show off for their gay fans may be that they don't perceive their behavior to be particularly gay-oriented in the first place."

Priest in Victoria, British Columbia accuses Bishop of lying about dismissal of church employee based on his sexual orientation: "The church has been in an uproar over the resignation of parish administrator John Oetter on Dec. 29 and the loss of the well-liked Favero three weeks later. Hundreds of parishioners have attended meetings and sent letters to the bishop asking for an apology and for the reinstatement of Favero and Oetter. Some church members are so upset they are threatening to withhold their financial contributions to the church. Yesterday, Favero said the problem began in May when a handful of influential people complained to Gagnon, the bishop of Victoria and the Island, that Oetter was gay."

Report: Justin Timberlake and Andy Samberg to perform "Dick in a Box" together at Madison Square Garden.