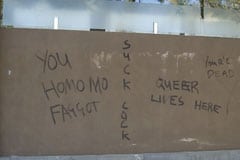 Two gay men have moved out of their Sydney-area home after two separate hate incidents, reports the Sydney Star Observer. The first occurred in December. The men, Jarrod and Jon, returned after a night out to find that intruders had ransacked their house and found, among other things, a stash of gay porn. The men believe that the intruders may have drawn the twisted conclusion that they were pedophiles, as Jon has a young son who occasionally visited and had a bedroom in the house.
Along with the vandalism, a note was left behind which read: "you are going to die soon, you pedophile prick".
Jarrod and Jon believe the same men were behind a second attack late last month, in which they scrawled graffiti on an outside wall of the property.
Said Jon: "I don't believe … that we are being targeted for any other reason than the fact that they've just come in here, robbed us and found this gay porn. In some typical distortion of being gay and being a pedophile, they left us this evil note. We're shocked by the fact there's even this sort of gay hate crime going on any more."
An investigation is underway.
Gay Men Terrorised in Hate Attacks [sydney star observer]
You may have missed…
60-Year-Old Australian Man Bashed, Sexually Assaulted by Gang [tr]