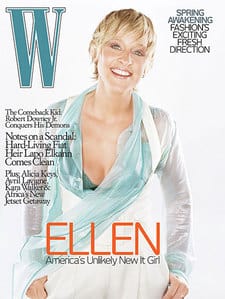 Ellen has a few things to say about her fellow comedians in the upcoming issue of W, characterizing Kathy Griffin as "very mean", Sarah Silverman "hilarious" and Sacha Baron-Cohen "brilliant". She also says designers are sending her a variety of "different suits" for her upcoming stint at the Oscars:
"Whenever Portia and I are on the red carpet, they're yelling out for her to tell them what she's wearing. But nobody cares [about what I'm wearing] because I have a suit on, even if it's a Gucci suit. That to me is frustrating, because I put effort into getting ready too. But I guess it's not as important, and I'm not as dressed up somehow. I also feel myself more of a person than a gender. When people show me clothing that seems very, very feminine, it's hard for me to embrace that, because it just doesn't feel like me…. It was fun [for the shoot] having somebody do that to my hair, and do that makeup. But would I want to do that every single day? No."
She looks pretty amazing on this W cover (click to enlarge).
You may have missed…
Guide to the Tube: Jake Gyllenhaal Calls Ellen [tr]