Page Six reports this morning that one of their spies spotted former congressman Mark Foley arriving at West Palm Beach airport with his dermatologist boyfriend Layne Nisenbaum.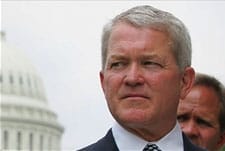 Said their source: "They had a pile of Louis Vuitton carry-ons and were waiting for their other luggage. He was staring at his feet with his back to everyone. I stared at him long enough that he turned and looked at me. We made eye contact. I gave him a, 'I know what's up' smile."
I think Foley's probably pretty used to the "gotcha" stare.
In related news, it looks like the Foley scandal actually attracted pages to the halls of Congress rather than scare them away: "Congressional officials attribute the increase to the old adage that there is no such thing as bad publicity. Whatever the reason, it is now clear that the national uproar over Foley's sexually explicit e-mails — which led to the Florida congressman's resignation and contributed to the GOP majority's rout in 2006 — has hardly chilled the ambitions of young people who want to work on Capitol Hill."