Reacting to former NBA player John Amaechi's recent coming out of the closet, former NBA Miami Heat player Tim Hardaway told a sports radio host today that he unequivocally hates gay people, that they shouldn't be in the world. Hardaway made the comments in an interview with Dan Le Batard of 790 the Ticket when asked about how he would deal with someone like Amaechi on his team: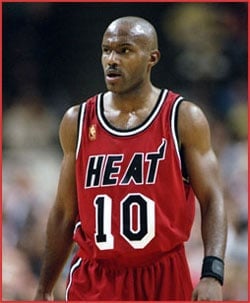 "First of all I wouldn't want him on my team. Second of all, if he was on my team I would really distance myself from him because I don't think that's right and I don't think he should be in the locker room while we're in the locker room."
After Le Batard pointed out that the former point guard was being "flatly homophobic", Hardaway continued:
"Well, you know, I hate gay people. I let it be known, I don't like gay people. I don't like to be around gay people."
"Yeah, I'm homophobic. I don't like it. It shouldn't be in the world, or in the United States. So, yeah, I don't like it."
The NBA, for whom Hardaway had been making public appearances, immediately removed him from further appearances, saying: "It is inappropriate for him to be representing us given the disparity between his views and ours."
According to the South Florida Sun-Sentinel: "Hardaway was listed Tuesday as an "NBA Legend" when the league launched its NBA FIT program at the YMCA of Southern Nevada and had been part of the NBA's Community Caravan leading up to Sunday's All-Star Game in Las Vegas. Hardaway played for the Heat from 1996 to 2001 and remains the franchise's all-time leader in assists. His NBA career began in 1989 and ended in 2003. Amaechi played in the NBA from 1995 to 2003, but never as a Hardaway teammate."
Hardaway's agent had no immediate comment.
UPDATE: Hardaway later apologized for his comments during an interview with Miami's WSVN. Said Hardaway: "Yes, I regret it. I'm sorry. I shouldn't have said I hate gay people or anything like that," he said. "That was my mistake."
(video) Tim Hardaway comments.