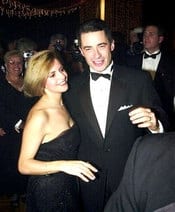 Former New Jersey Governor James McGreevey filed for divorce today, 26 months after his wife, Dina Matos McGreevey (seen here in a 2002 inauguration photo) stood by as he declared "I am a gay American." The couple has been living apart since that date.
McGreevey told the Associated Press: "It's a sad day for everyone. It is something that had to be done. We are blessed with a wonderful daughter who remains our focus."
Matos McGreevey, who has 35 days to respond to the divorce filing, is expected to break her silence regarding their marriage in a tell-all book entitled Silent Partner, due for release on May 1st.