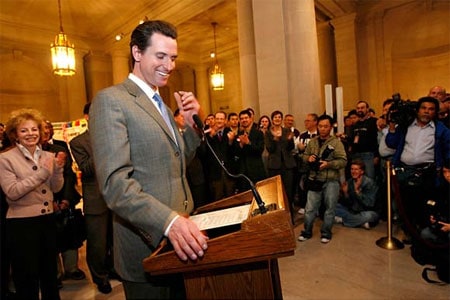 On Monday, the third anniversary of the day San Francisco Mayor Gavin Newsom began issuing marriage licenses to over 4,000 same-sex couples in San Francisco, setting off a wave of similar actions by mayors around the country and bringing the gay marriage battle into sharp focus, he was honored by hundreds of same-sex couples at City Hall.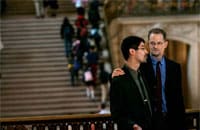 The San Francisco Chronicle reports that the Mayor was buoyed by the support in the wake of his recent disclosure that he had an affair with the wife of a former campaign manager.
Newsom talked about the continuing struggle for gay and lesbian marriage rights as California's courts continue to consider whether or not same-sex marriages are legal under the state's constitution.
Said Newsom: "For me this is a long battle, but it is one that will be won inevitably. It's only won through courage and constancy and works. You've got to continue to remind people what's at stake and not give up or deviate from your purpose….There's never a wrong time to do something right."
Newsom also referenced Vice President Dick Cheney's recent interview with CNN's Wolf Blitzer, in which he declared questions about his lesbian daughter Mary's pregnancy off-limits: "I think it's unfortunate that the vice president does not want to talk about the pending birth of his granddaughter when he was at the forefront of advancing efforts that I would argue not only discriminate against his daughter, but also his granddaughter."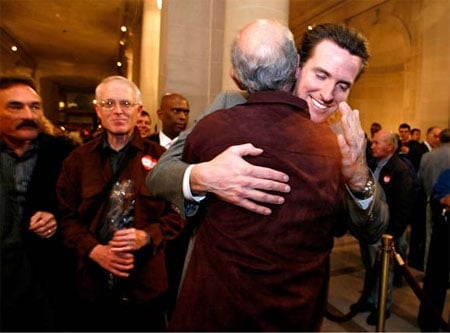 Anniversary of Same-sex Weddings [sf chronicle]
You may have missed…
Gavin Newsom on Gay Marriage and Spineless Democrats [tr]