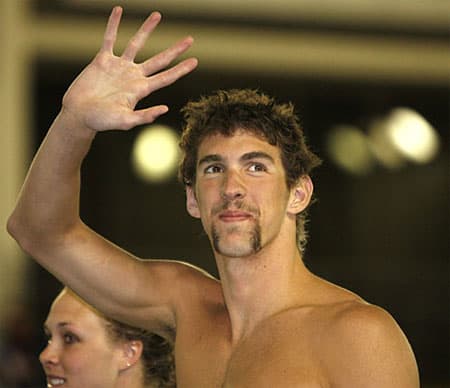 USA Today takes a fresh look at swimmer Michael Phelps now that Ian Thorpe has retired and cleared the way for Phelps to dominate in the pool.
Now I thought most swimmers shaved to achieve better aerodynamics underwater, but Phelps was rocking a brand new handlebar porn-stache at the Southern California Swimming Grand Prix last month.
From USA Today: "With the recent retirement of Australian great Ian Thorpe, the path to that title is clearer, although fellow U.S. Olympian Klete Keller contends Phelps 'already passed' Thorpe. 'To really have a legacy that (Phelps) may be individually proud of, he's going to have to do it over more than one Olympics,' three-time Olympic gold medalist and NBC swimming commentator Rowdy Gaines says. Like Phelps, three modern-era male swimmers have had one dominant Olympics apiece: Thorpe, with three golds and two silvers on home soil at the 2000 Summer Olympics in Sydney; Matt Biondi, with five golds and seven overall medals in 1988; and Mark Spitz, with seven golds at the 1972 Games."
And, of course, Spitz worked the porn-stache better than any swimmer in recent memory. I smell victory.
You may have missed…
Ian Thorpe: Gay Rumors No Big Deal [tr]
Sportrait: Michael Phelps [tr]