Gay mogul David Geffen slammed Hillary Clinton by way of an interview in Maureen Dowd's NYT column, published the day after a fundraiser for Barack Obama that sent $1.3 million into his campaign coffers.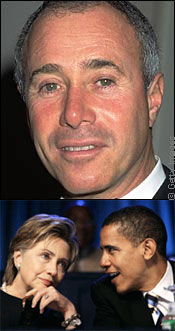 Said Geffen, who was once close to the Clintons but "fell out" in 2000, Dowd notes, when Clinton pardoned Marc Rich and not Geffen friend Leonard Peltier: "Whoever is the nominee is going to win, so the stakes are very high. Not since the Vietnam War has there been this level of disappointment in the behavior of America throughout the world, and I don't think that another incredibly polarizing figure, no matter how smart she is and no matter how ambitious she is — and God knows, is there anybody more ambitious than Hillary Clinton? — can bring the country together. Obama is inspirational, and he's not from the Bush royal family or the Clinton royal family. Americans are dying every day in Iraq. And I'm tired of hearing James Carville on television."
According to Dowd, Geffen believes the country has 'Clinton fatigue': "I don't think anybody believes that in the last six years, all of a sudden Bill Clinton has become a different person. I think they believe she's the easiest to defeat."
Geffen also criticizes Hillary's current stance on Iraq: It's not a very big thing to say, 'I made a mistake' on the war, and typical of Hillary Clinton that she can't. She's so advised by so many smart advisers who are covering every base. I think that America was better served when the candidates were chosen in smoke-filled rooms."
He calls Bill "a reckless guy" who "gave his enemies a lot of ammunition to hurt him and to distract the country….Everybody in politics lies, but they do it with such ease, it's troubling."
The billionaire acknowledges, however, that Clinton will put up a tough fight: "…that machine is going to be very unpleasant and unattractive and effective."
The Clinton camp has demanded that Obama condemn Geffen's diatribe, noting that Obama has been denouncing "slash and burn politics" on the campaign trail. A press release from Clinton Communications director Howard Wolfson urged:
"If Senator Obama is indeed sincere about his repeated claims to change the tone of our politics, he should immediately denounce these remarks, remove Mr. Geffen from his campaign and return his money."
Yikes. I don't think it's gonna get any prettier from here on in.