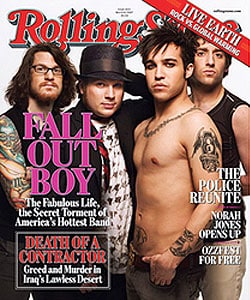 Pete Wentz: "I'm attracted to creative people and train wrecks, and there's no shortage of that in Los Angeles."
Wentz and his band of the moment Fall Out Boy do Rolling Stone.
We showed you some of the shots earlier this week. RS has also posted a behind-the-scenes video of the band getting intimate with their light sabers.
You may have missed…
Pete Wentz's Deviant Caveman Lips are Ready for You [tr]