After extended debate and an overnight meeting finalizing the details of the bill, Italy's government has approved draft legislation in which unmarried same-sex or heterosexual couples would be able to register their union and receive some of the rights of married couples.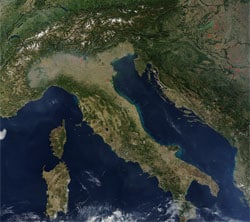 Said Piero Fassino of the Democrats of the Left party: It's the first time in the legislation of our country that people who live together, heterosexual or homosexual, will have their basic rights recognized. [The bill] allows the recognition of the rights of those who live together by making this cohabitation more serene and solid, and at the same time respecting the Italian constitution, which guarantees that the family is founded on marriage."
Though it's a step forward for Italy, compared to other types of "civil union" laws in Europe, Italy's will be "far less robust":
"In addition to health and social benefits, inheritance entitlements will be assured after partnerships lasting at least nine years and rental contracts will be protected after three years, Equal Rights Minister Barbara Pollastrini said at the news conference following an extraordinary cabinet meeting. A minimum duration of a union in order for a pension to continue to be paid to a surviving partner has yet to be decided. Under the law, unmarried gay or heterosexual couples would also be accorded some of the rights enjoyed by conventional couples such as hospital and prison visitation rights."
The Pope and has been anticipating this "attack on the family" for some time. I'd expect a statement from the Vatican soon.
Italian cabinet approves draft law recognizing gay couples [afp]
You may have missed…
Gays in rome Protest Against the Vatican [tr]
Pope Attacks Gay Marriage in Christmas Address [tr]
Gay Barbie Nativity Raises Stink at Italian Parliament [tr]