Former NBA Player John Amaechi came out of the closet officially over the weekend on Sunday's ESPN program Outside the Lines. We have the clip for you here.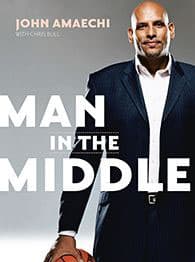 The Human Rights Campaign announced yesterday that Amaechi would serve as a spokesperson for HRC's Coming Out Project, a program that helps gay men and women come out and live openly.
Amaechi's announcement has been met with reactions from coaches and players in pro basketball. Most have reacted with something of a shrug, though billionaire entrepreneur Mark Cuban said that a current NBA star who decides to come out would make bank.
Dallas Mavericks owner Cuban told the Fort Worth Star Telegram: "From a marketing perspective, if you're a player who happens to be
gay and you want to be incredibly rich, then you should come out,
because it would be the best thing that ever happened to you from a
marketing and an endorsement perspective. You would be an absolute hero to more Americans than you can ever
possibly be as an athlete, and that'll put money in your pocket. On the flip side, if you're the idiot who condemns somebody because
they're gay, then you're going to be ostracized, you're going to be
picketed and you're going to ruin whatever marketing endorsements you
have…When you do something that the whole world thinks is difficult and you
stand up and just be who you are and take on that difficulty factor,
you're an American hero no matter what. That's what the
American spirit's all about, going against the grain and standing up
for who you are, even if it's not a popular position…It's got to be somebody who's strong-willed. He'll put up
with some grief. But at the same time, I don't want to compare him to
Jackie Robinson, but it's the analogy in a lot of ways. He becomes a
role model.
And here are a few of the other reactions from around the league:
Utah Jazz coach Jerry Sloan, whom Amaechi has accused of using anti-gay remarks in reference to him: "Oh yeah, it would have probably mattered. I don't know exactly, but I
always have peoples' feelings at heart. People do what they want to do.
I don't have a problem with that."
Cleveland Cavaliers forward LeBron James:
"With teammates you have to be trustworthy and if you're gay and you're
not admitting that you are, then you are not trustworthy. So that's like the No. 1 thing as teammates – we all trust each other.
You've heard of the in-room, locker-room code. What happens in the
locker-room stays in there. It's a trust factor, honestly. A big trust
factor."
Orlando Magic player Grant Hill: "The fact that John has done this, maybe it will give others the
comfort or confidence to come out as well, whether they are playing or
retiring."
NBA Commissioner David Stern: "We have a very diverse league. The question at the NBA is always: 'Have you got game?' That's it, end of inquiry."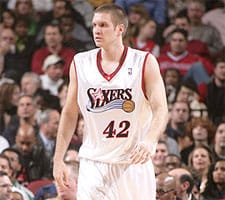 Philadelphia Sixers forward Shavlik Randolph: "As long as you don't bring your gayness on me, I'm fine. As far as business-wise, I'm sure I could play with him. But I
think it would create a little awkwardness in the locker room."
Toronto Raptors coach Sam Mitchell: "It's really a difficult thing to do, knowing the nature of sports and
being in that locker room, it could be tough. I think
it wouldn't be a lot of guys, but there would always be one or two on a
team (who wouldn't approve)."
Philadelphia 76ers center-forward Steven Hunter: "For real? He's gay for real? Nowadays, it's proven that people can live double lives. I watch a lot
of TV, so I see a lot of sick, perverted stuff about married men
running around with gay guys and all types of foolishness. As long as he don't make any advances toward me, I'm fine with it. As long as he came to play basketball like a man and conducted
himself like a good person, I'd be fine with it."
Celtics coach Doc Rivers: "I think if he would have come out, they would have got on him
jokingly. … And I actually think that when guys do come out, when
that day happens, it will make it easier."
You may have missed..
Guide to the Tube: Talking Heads Discuss the Coming Out [tr]
Report: Former NBA Player John Amaechi to Announce He's Gay [tr]
John Amaechi: Man in the Middle
[amazon]
(thanks alan)