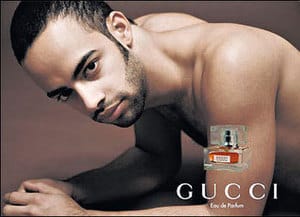 Ever dream of seeing yourself in a fashion ad? In some places, you can now do it yourself.
A man in Switzerland created this fake Gucci ad, featuring himself, and phoned the Swiss weekly SonntagsZeitung, booked the $50,000 ad for Sunday's edition, and told staff at the paper to bill Gucci, which they did.
According to the AP, the ad was booked too late for staff at the publication to check if the ad was valid (and it's not clear if they would have anyway, since the man told the weekly he was with Gucci) so the two-page spread went to press and Gucci was billed.
Christoph Zimmer, a rep. for the weekly, said "We've spoken to Gucci and apologized for the mistake. We're going to try and get the money back from this guy, but we don't rate our chances."
The man's name was not reported to the media, but he's supposedly under investigation for other forms of fraud. At least they've got a good idea what he looks like.